The clinic is upstairs at 84 Main Road Kumeu (in the Village near the BNZ) offering cosmetic tattoo and other beauty treatments such as Plasma Skin Tightening, Cosmetic Tattoo Removal, Yumi Lash Lifts, Microneedling. Cosmetic Tattooing Clinic in Kumeu, West Auckland offering Ombre Powder Brows, Hairstroke Brows with Machine, Lip Blush Tattoo, Eyeliner, Microneedling, Yumi Lash Lifts & Tattoo Removal. We adhere to strict policies of Bloodborne Pathogens and the avoidance of cross-contamination.
Are you looking for a perfect way to have a perfect look? We are here to help you. Brows & Beyond has amazing services both in Kumeu, West Auckland. We provide various services like Yumi lash lift, Eyeliner lash enhancement, etc. Our Permanent Makeup Specialist Kumeu, West Auckland has much experience in this field and ensures to give you a perfect therapy. Providing high quality services, our Cosmetic Tattooing Kumeu, West Auckland will take into account all your desires and help you decide which option will be best for you. We have the needed top class facilities, so we guarantee your perfect experience with us. Permanent Makeup Artist Auckland is ready to enhance your natural look in just no time.
BROW BOOSTER® under 2 years

$250

BROW BOOSTER® over 2 Years

$350

THE FADE® BROWS STEP 1

$500

THE FADE® BROWS STEP 2

 

$200

THE FADE® BROWS STEP 3 (if needed)

 

$150

Brow Tint

$25

THE FIX®

 

$1200

THE FLICK® MINI

$350

THE FLICK® SHADED step 1

$600

THE FLICK® MAXI STEP 1

$600

FOLLOW UP VISIT FOR ALL EYELINERS

$150

EYELINER CORRECTION BOOSTER®️

$350

Lower Liner Only

$350

THE FLICK® MIDI

$450

The Flick®️ Booster

$250

THE FILL®️ LIP TATTOO STEP 1

$500

THE FILL®️ LIP TATTOO 2nd Session

$200

TATTOO REMOVAL

XTRACTINK®️ REMOVAL 2.5 x 2.5 cm

$395

XTRACTINK®️ TATTOO REMOVAL BROWS/LIPS/LINER

$390

XTRACTINK REMOVAL FOLLOW UP VISIT

$250

AREOLA TATTOO

Laser Tattoo Removal Session One

$99

Laser Tattoo Removal Follow Ups

$99

MICRONEEDLING SINGLE SESSION

$250

MICRONEEDLING 4 X SESSIONS

$800

Carbon Laser Facial

$149
Procedures
Please follow steps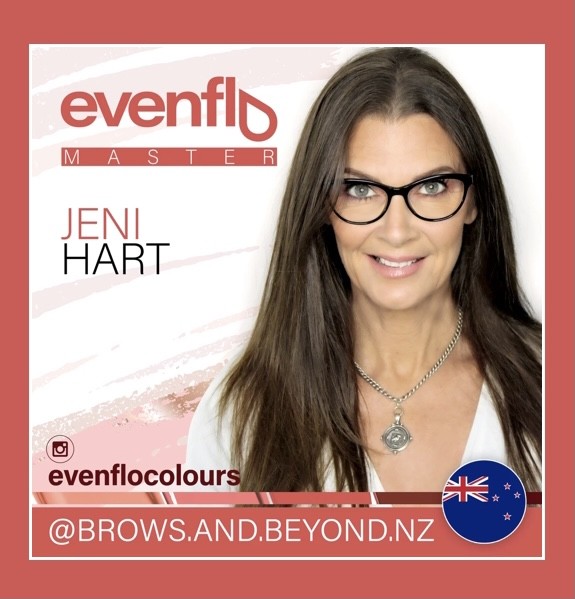 "Designing Beauty That Lasts" by Jeni Hart.
Jeni Hart is a qualified cosmetic tattoo specialist who runs "Brows & Beyond® Cosmetic Tattooing and Pro Shop. She is the NZ distributor for
Permablend Cosmetic Tatttooing Pigments (World Famous Inks), Membrane Aftercare and ReelSkin Tattoo Practice Skins.
Cosmetic Tattoo
Yumi Lash Lift
Carbon Laser Facial
Tattoo Removal