Comments Off

on Hairstroke Technique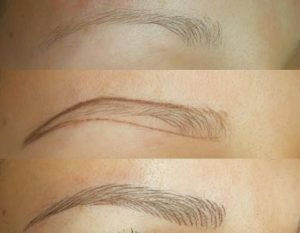 It is no secret that eyebrows frame a face and are an essential part of the facial expression. However, years of plucking, unwanted scars, very fair hair or simply no luck given by the Mother Nature can resolve in long and painful hours of an eyebrow drawing beauty routine.
Unfortunately, most of us are no professional makeup artists or beauty technicians either. Sometimes a rushed job half asleep in the morning leaves a lot to be desired for. Poorly defined or uneven brows may make your face appear tired giving a prematurely aged look. This is where the technicians with various brow tattooing techniques come in. You should not hesitate to trust a professional who's been trained and knows what brow shape, colour and arch will suit your face.
Sometimes technicians combine tattooing techniques to achieve a custom result, however, I would like to talk about the popular hair stroke technique. This wonderful method creates depth, texture and movement producing very realistic eyebrows. Sometimes shading can be added to increase depth and density for a maximum effect. So what do hair stroke eyebrows look like?
The colour pigment is implanted into the skin using very fine needles which produce hair-like strokes imitating natural eyebrows. This clever method gives the most natural results with a very soft healed effect. For the best results, the hair strokes must follow the growth pattern of natural hairs left. If there is no hair left, the beauty technician improvises using their training, knowledge and creativity.
Using a finer needle will provide more delicate hair strokes. The needle implants pigment into the skin with very little trauma at all. The results should last 1-2 years before a touch up is required.
Jeni